I was looking at the historical OS maps online just now as the maps produced for the SL&NCR greenway consultation erroneously showed the SL&NCR taking a route from Collooney to Sligo that it didn't (the map producers seem to have mistaken internal estate trackways for a railway trackbed). Anyway, that is not the subject of this post.
Collooney had an interesting set of junctions between MGWR (Dublin to Sligo), SL&NCR (Enniskillen – Collooney – Carrignagat Junction) and WL&WR/GS&WR (Claremorris to Collooney to Collooney Junction).
Looking at the 25″ OS map online, this shows a distinct railway trackbed like curve running from the GS&WR/SL&NCR link (the Southern siding) to the SL&NCR line from their Collooney Station to Carrignagat Junction which, if it had been completed, would effectively duplicate the line from the GS&WR Collooney line to Collooney Junction albeit some 400 feet to the east (see diagram below):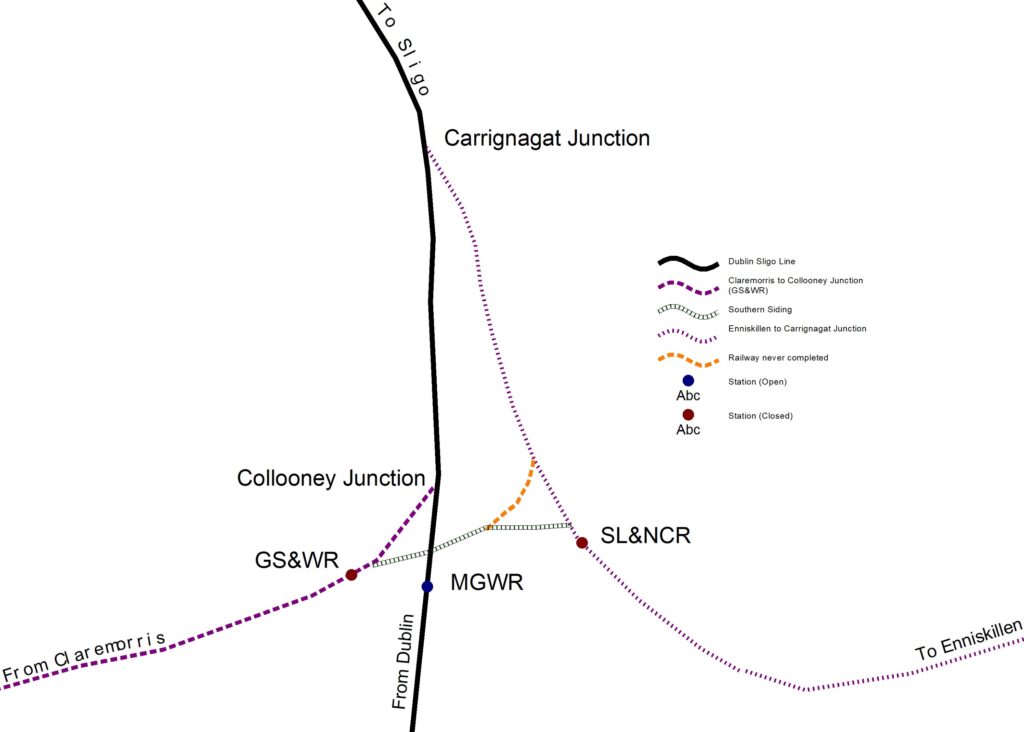 This would have been an interesting alternative to the GS&WR/MGWR connection – if it had been built, the SL&NCR would have received a cut of all traffic to/from Sligo that passed over the GS&WR line. This would have been an economic bonus for the latter, which was never very prosperous. As it so happens, this line did not come into existence and the closed but in situ connection from Collooney South station (GS&WR) to Collooney Junction (MGWR) happened instead.
Unfortunately it is not possible to link to the Geohive website – however, anyone interested in seeing this for themselves can go to www.geohive.ie, select Map Viewer an on the top right, select the option for "Zoom to Coordinate". Enter the Easting as "567780" and the northing as "826994". You will need to change the Basemap Gallery (top left) to "Map Genie 25 inch" and zoom out a bit.